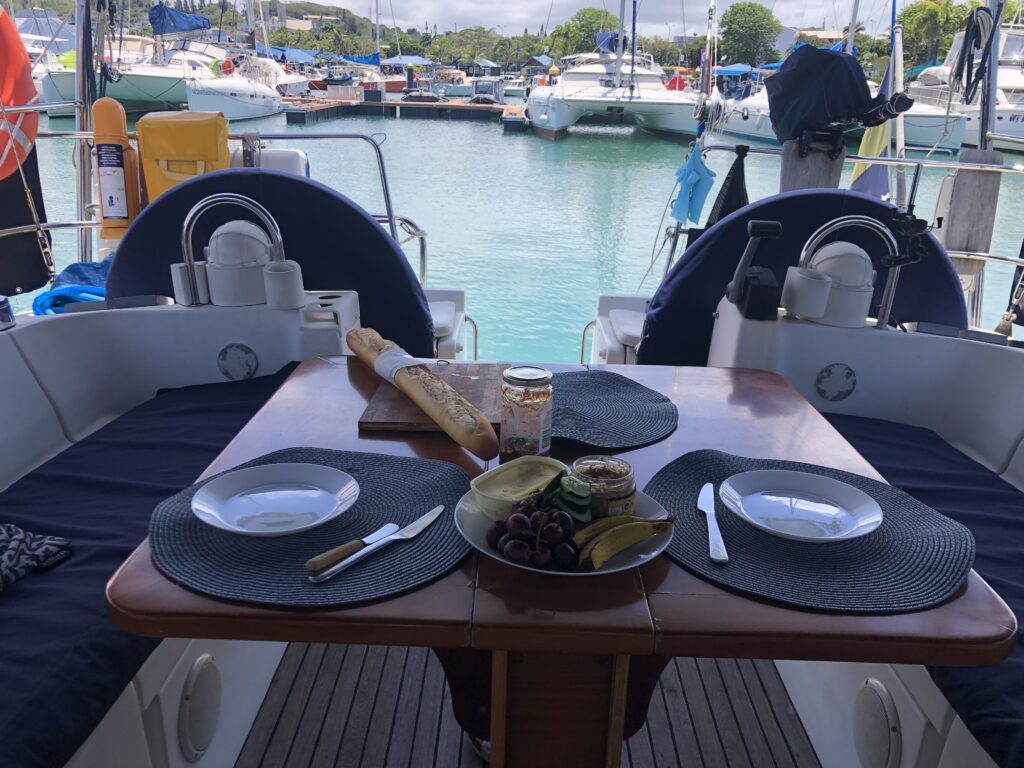 Our New Caledonia stop was fleeting, and we really didn't do the country justice. We only stopped to wait for weather to continue our passage to Australia, and the two weeks we spent were certainly not in tourist mode.
Almazul stayed in the marina in Noumea the whole time, except for one magical night at anchor on first arrival, to await favourable tide conditions to tackle the Havana channel towards Noumea.

NEW EXPERIENCES:
Developing a "city crush" quite quickly! The well presented men of Noumea took wearing jeans and a polo shirt to a whole new level, but it was mostly the WOMEN I was enamoured with! Straight out of Vogue, effortlessly stylish, immaculately groomed. I wanted one of them to abduct me for a day and Frenchify me…. they were gorgeous! It was also the first time I've seen a WHOLE aisle in the supermarket dedicated to men's grooming products!
Using doonas – we have not needed bedcovers apart from as a barrier to mosquitoes for 10 months, nor worn jeans or socks. it was actually quite nice snuggling into a cosy doona, and you soon get accustomed to the feeling jeans, but I am still getting used to the socks! The toe confinement reminds me of my high school uniform, with too small tights squeezing my chillblained toes inside the regulation black lace up school shoes. Memories!
Swimming inside a shark net. As an Aussie, I didn't know what they were worried about, but bull sharks frequent the bay, according to our French neighbor who swam there daily. Point taken.
Seeing sea snakes in the marina! There were lovely coral collections along the marina wall, inhabited by reef fish and apparently, sea snakes. I was grateful that Magnus did the underwater work on the hull on this occasion.😳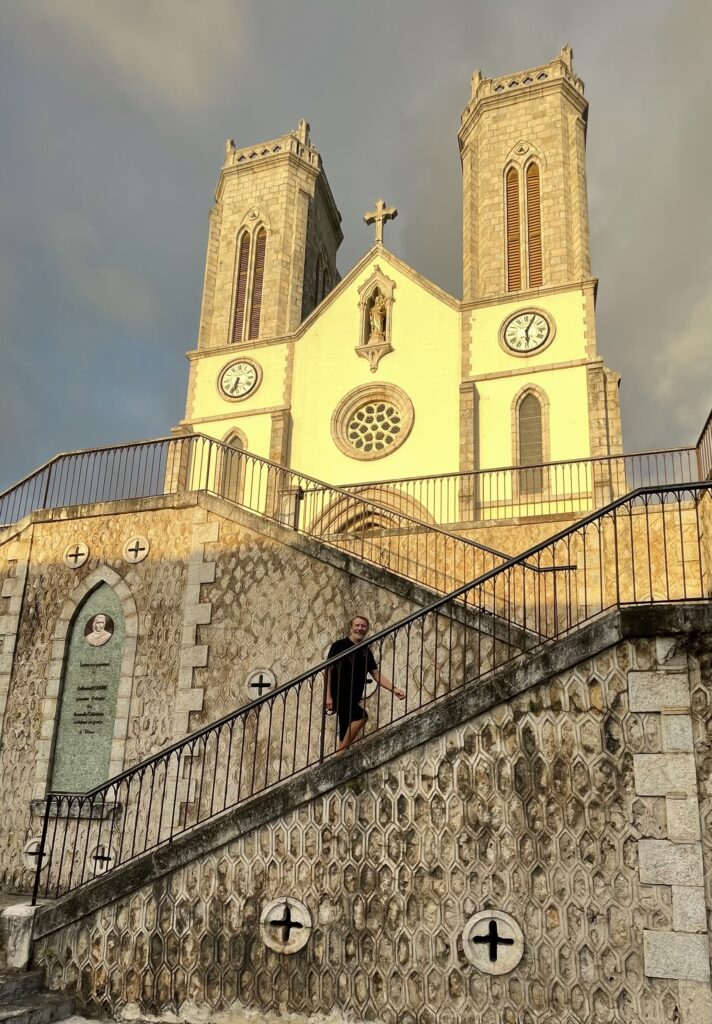 BEST:
French food and European infrastructure combined with South Pacific weather. The orderly bus system and dairy products were especially well received, after a dearth in Tonga and Fiji. Brie and plain old strawberry jam on crackers became a short lived new fave. And the lovely salty French butter!
Getting to know the city quite quickly, it's quite a compact centre ville, and it was nice to know the shortcut to the Latin Quarter, where the closest baguettes were, and how to get around by bus independently.
Invigorating walks to nearby beaches. Baie de Citrone was a bustling cafe fronted tourist strip and beach complete with tiny netted off area for swimming. Anse Vata was a long, sweeping strip of white sand, bookended by Le Meridian and The Hilton, and was a kite surfing mecca. The day we went was particularly invigorating, due to the 30 knot winds blowing the whole time!
Bus touring. The Hop on Hop off bus we were hoping to use only runs when a cruise ship is in town, so we hopped on and off the local buses, and it was a perfect way to see the town and surrounds. (I came to understand that many tourist services are based on the cruise ships. I guess 5000 tourists landing in town is what keeps many tourism operators in business.)
A visit to the Tjibaou Cultural Centre with our buddy boat Carina. Tjibaou is a living monument to the Kanak culture and practices. The striking buildings were designed by an Italian to reflect the shapes of original conical Kanak designs and ceremonial buildings and it was particularly interesting to see the process of building the immensely tall structures. 
Daily running and french breakfasts. We found a short hilly circuit from the marina to get our legs moving, and of course it was de rigeur to reward ourselves afterward with a fresh baguette! 
Hanging around with our buddy boat Carina, and meeting a couple of new boats. Shared sundowners on boats or at the marina bar were the source of much enjoyment, and also a place to discuss weather, and the relative merits of different ports of arrival in Australia.
WORST:
Watching Cyclone Mal approach Fiji, directly over the area we had just left, and where friends remained in its path. Cyclone preparation is no joke, and we were extremely relieved that Jenny and the Mac crew were safe.
The creeping discomfort of appearing terribly gauche with my boat coloured hair and sunscreen stained clothes among the very stylish city dwellers.
Prices in general. It was not a place to buy anything unnecessary. Fun to window shop though! It was difficult to find a nice looking hand bag under AUD$2000, and I will definitely hold off for a new hat! The marina however, was remarkably cheap; maybe because it is 95% local yachts?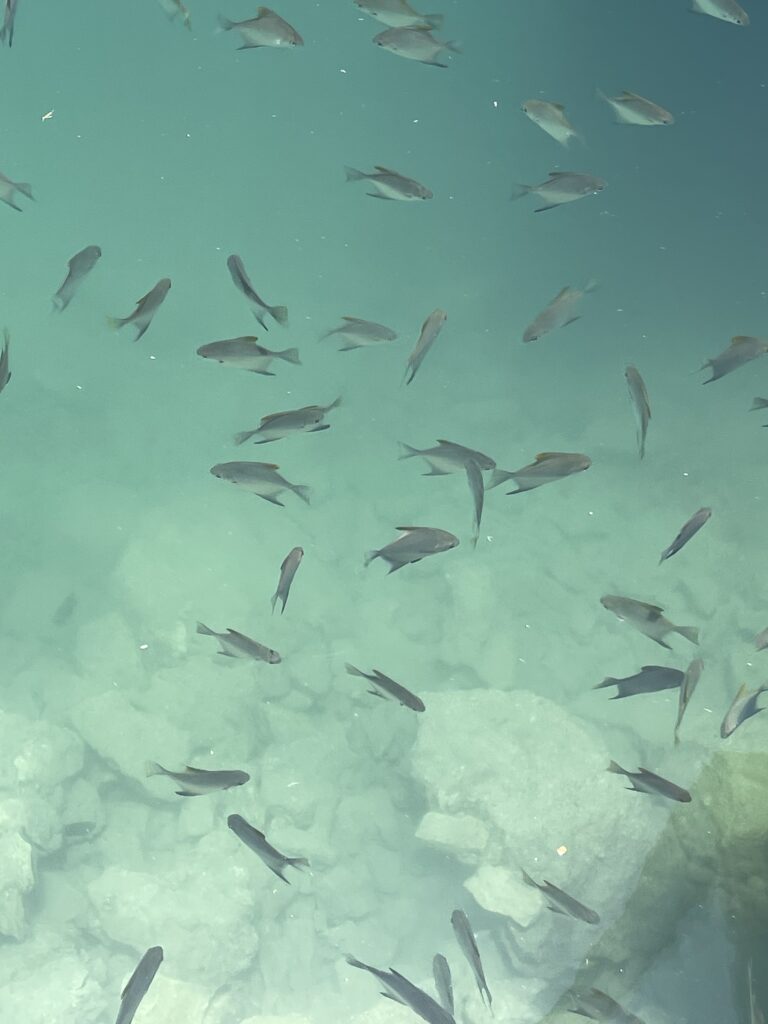 FUNNIEST:
Discovering that our buddy boat Carina crew have many hidden talents! J is quite a linguist, (I have to admit that his south Indian accent trumps mine, no question!) and S a very determined and persuasive woman, masterfully drawing on her well honed repertoire of feminine wiles when required!😂😍( I was the beneficiary of some of the favours bestowed upon her thanks to her feminine wiles, so no complaints from me!😂)
Listening to live music from the marina bar on the boat – we were at a perfect distance to be able to enjoy it, whilst not too close . Some nights were fantastic, others karaoke! 😂🙄
FOOD AND BEVVY HIGHLIGHTS:
French food. The pate, salami, ham, soft cheeses, pastries; heavenly!! The city market was right next to the marina; selling fish, meat, cheese, fruit, veggies and of course patisserie fare! As well as the market, Noumea presented a wonderful selection of boucheries, boulangeries, patisseries, and well stocked supermarkets.
Dairy products! We could buy butter of any variety, sour cream, cream cheese, cream, and yoghurt. And cheese of course!
Eating out didn't feature for us, but we had some nice meals on the boat with fresh meat, fish, and veggies from the market.
Quirky Malongo Village. A lively collection of bars and small tapas type eating options, filled with loud conversation, gesticulation, city dwellers, smokers, and us. We wore dark colours and tried to blend in. Our age, among other things, may have been against us, but it was nice to sit in the midst of life.
A visit to the "Roulettes" was a treat. These food trucks are set up daily under a ceiling of festive coloured party lights creating a pleasant fair like atmosphere. The gaily painted vans and their colourful proprietors serve a variety of fantastic Mexican, Asian, Indian, French, and American food – all served with a piece of baguette, of course!. And, the piece de resistance; a pink patisserie van serving exquisite and delectable cakes and pastries. What else could it be called but "Monsieur Sucre?"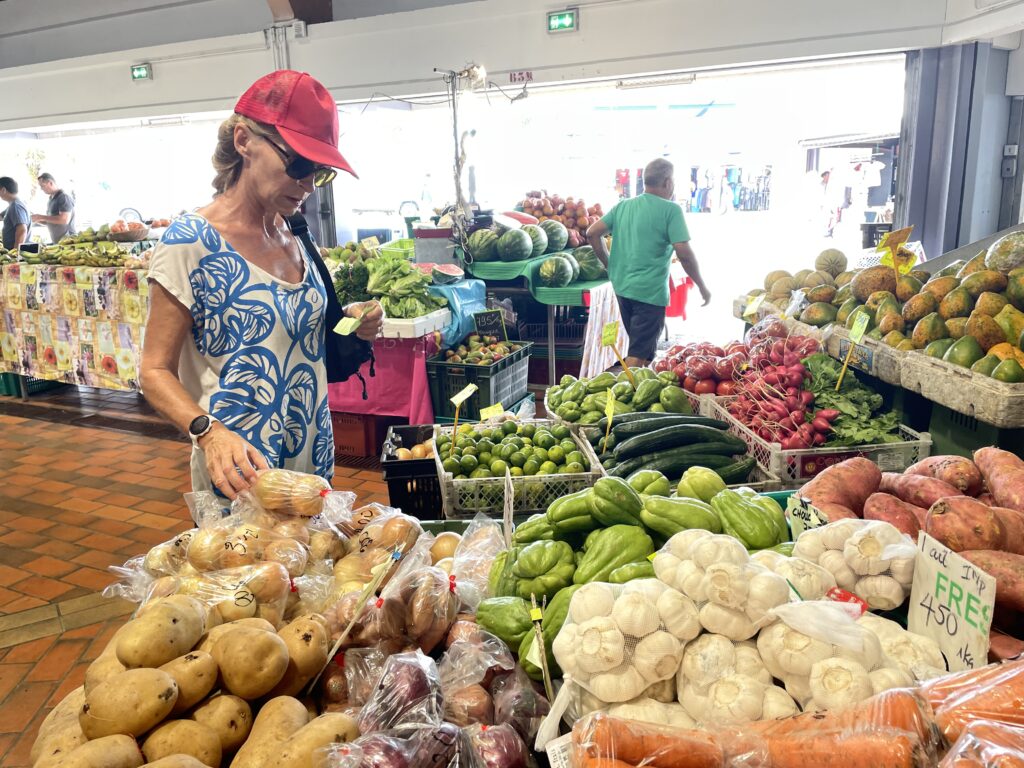 BOATWORK:
More hull cleaning, including the speed log wheel.
More bilge and locker cleaning, a more pleasant job in the milder climate.
Running repair of our aging Bimini. We had to improvise with cable ties while we were underway, and then tidied up with needle and thread in the marina.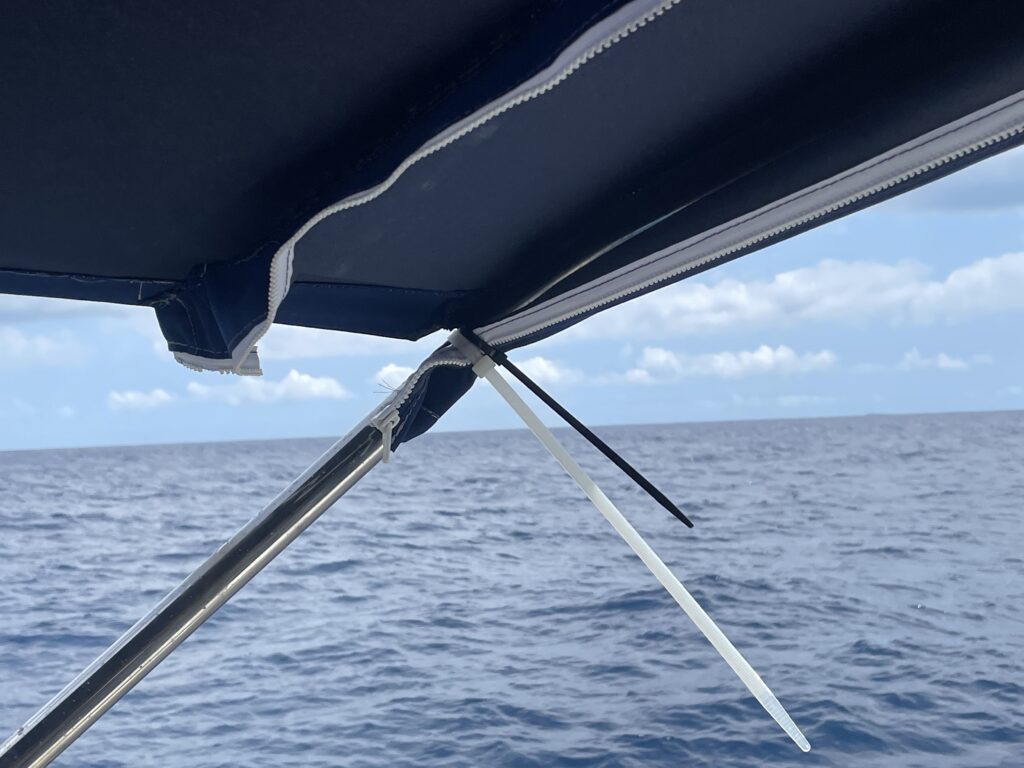 THE SWEDISH STUDENT:
Jag har bara lyssnat på min favoritpodcast "The Swedish Linguist" på passage, och upptäckt en ny Instagram att följa, men det är ofta inte lika bekvämt att titta på en video när jag är på en passage, så nedladdade poddar är det!!