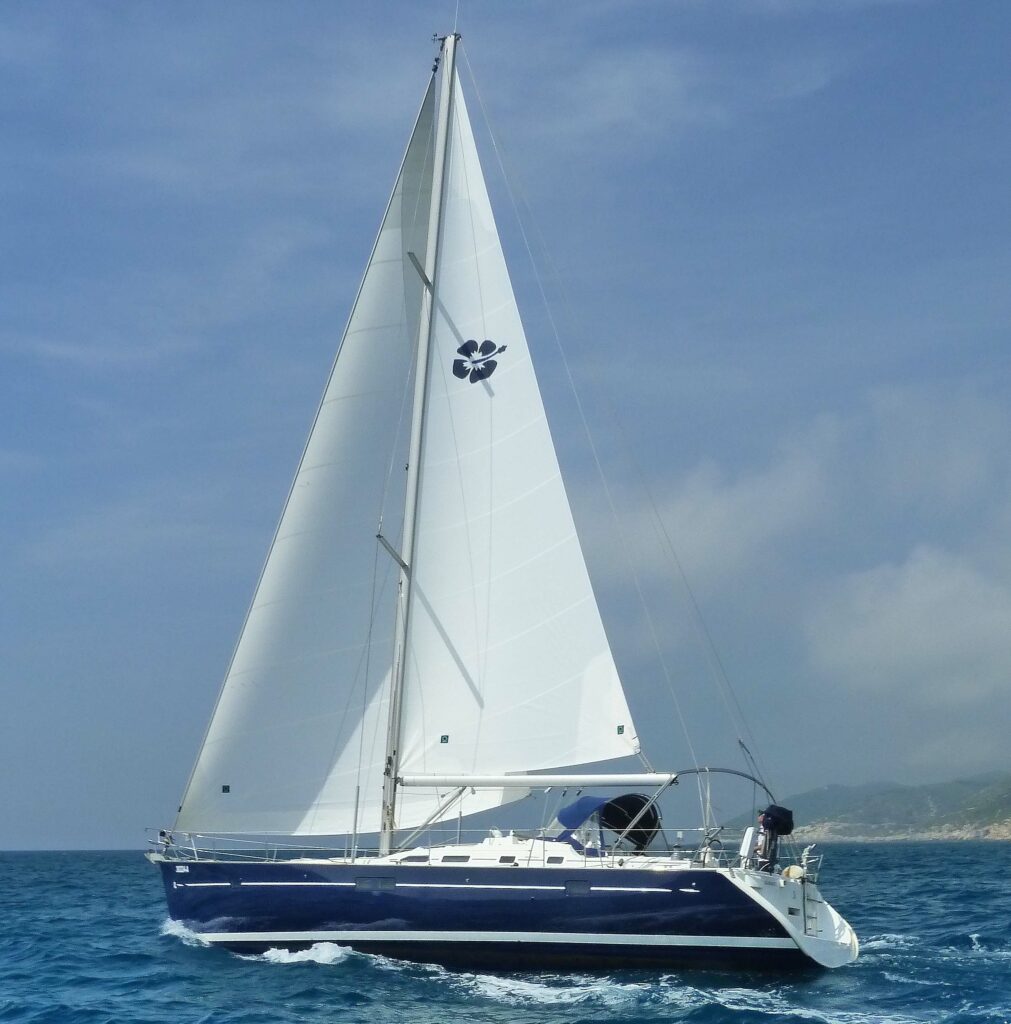 Almazul is an Oceanis 473 from 2002 who has spent most of her time in the marina by the dock. There will be a lot of work to prepare her for long distance cruising. The good thing is that she only have 500 hours on the engine and is in very good condition… untouched!
Electrical specs
4*100AH AGM Service battery Bank
100AH Led/acid Start battery
120AH Led/acid bowprop / windlass battery
2*175W Victron solar panels
400W SilentWind Pro Windgenerator
80A Generator
Simarine Battery monitor
Dolphine charger 80A
Navigation and Communication
Raymarine Raytheon RC530 chartplotter
VHF Cobra marine with GPS
2*Ipad with Navionics and Wärtsilä ISailor
Vesper Marine XB8000 AIS Wifi Transponder
Garmin inReach mini
Tank capacity
4*200l water tanks
230l fuel tank
40l holding tank
Works done on boat up to 2020-03-10
3 new hatches in owners cabin… no more rain leaking into the bed
Manson supreme 27kg anchor with 70m 10mm chain
4 AGM batteries and Simarine battery monitor
Stainless steel arch on transom fitted with 2*175w solar and 400w windgen
Installed AIS wifi transponder
Changed to LED lights
Reseated rudder bearing
Wisker Pole mounted i
New windows in sprayhood
Sanded bottom and painted with new International 2 component primer and 2 coats of International 350
Serviced winches
Planned jobs
Lower biminitop to be able to sail with bimini up
Change forestay and make the mast more "upright"
Planned jobs for Almazul 2.0
Automatic bilge pump and bilge alarm
2'nd fridge / freezer installed in the icebox

Water Recovery system

Radar
Drouge and drogue attachment points
Back up autopilot.
Worth to mention regarding installed equipment
Very happy with current battery charging and battery capacity. During crossing we needed to charge batteries with the engine every 2-3 day with the autopilot running all the time.
Without autopilot we have never charged the batteries with the engine as the solar and wind produces all power needed.
Happy with stainless steel arch for solar and winching up dinghy and dinghy motor.
So far happy with only navigation on Ipad. Works good and is cheap. We have Open CPN as a backup but have newer used it.
So far happy with the anchor. I'm now awake at nights but I often have the Vesper Maring Anchow watch set.
Love the big water capacity….
Regarding the boat…
We were a bit hesitant in the start weather the size of the boat was too big for us to handle. Would we be able to set and reef sails in tough conditions? An electric winch was early on the wish list but has now been taken away because we have not had any problem so far to handle the sails.
I was a bit hesitant regarding a furling main but are now quite happy with it as it is very easy to furl and unfurl when needed. The lack of power compared to a slab reefed main is nothing that has kept me awake at night. We seem to do more than good speed if we need.
It would be nice to add some downwind sail/gennaker etc. Now we are using a poled-out genoa. It works well and we can handle it but maybe a gennaker is the next step?
I would say that the Oceanis 473 has done the job very good. Feels good in heavy wind and waves. But ok, we have not had any storms so far but we had some heavy weather from the coast of morocco down to Lanzarote. We also had some rough conditions from Las Palmas to Cape Verde.The boat felt very good. When we arrive at anchorages and marinas the boat is easy to handle and the 2-steering wheel open transom makes her very comfortable. I say that all boats are a bit of a compromise, but this "compromise" has worked very well for us.
Planned boatwork for season 2:
Boatwork in Curacao Nov/Dec 2021
Beneteau Oceanis 473 polar diagram
Manuals:
Yanmar engine
Yanmar parts catalogue
Oceanis 473
Raymarine Smartpilot
Raymarine Linear drive
Raymarine Linear drive part list
Raymarine ST6002

Cobra VHF
Vesper Marine AIS
Standard Horizon VHF