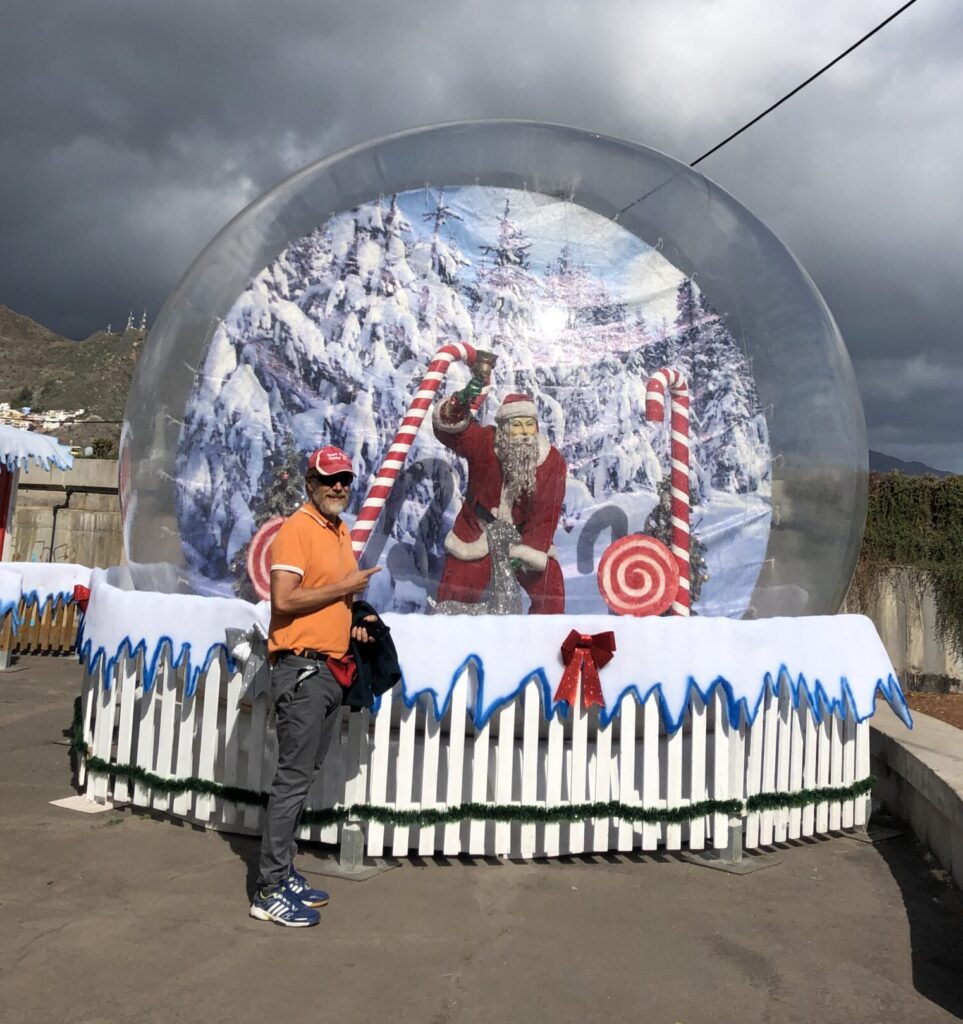 We are still in The Canary Islands but picking up the pace now with TransAtlantic preparations. We sailed without incident from Lanzarote to Tenerife, and now Gran Canaria. We have generally found the Canary Island marinas to boast resort like facilities, with caravan park prices! Win win!
Currently Almazul is on land for some rudder work and general TLC prior to our long sail to The CARIBBEAN in January. (I am still quite chuffed every time I think about this!) Magnus has his mind filled with sail set up, navigation, and communication devices, and mine is filled with provisioning. (For an army it seems!) For some reason I am assuming that we will eat AT LEAST five times as much as we normally do, OR that we will be marooned on a desert island for months… While neither is likely; the grocery shopping nevertheless continues unabated….
Some new experiences included:
Salsa dance class – strictly Spanish speaking – but we did our best! The class was great fun, and hilarious most of the time but we really had to "get over ourselves" and just go with it as best we could. At one stage a VERY tall young man seemed to be attempting to break my arm, gently but determinedly. It seemed churlish to ask him to desist, despite the pain and awkwardness… After a slightly uncomfortable period of struggle, I realised he was attempting a yet unknown dance move in which he had to get his (very high up) head through a small (and comparatively low) gap between my shoulder and elbow, while having a firm grip on my twisted up hand. Success was not complete; obviously, but at least the struggle ended peacefully…
VERY INTENSE Spanish Cross Training classes…. again, no English to concern myself with. (If you have ever done cross fit you will understand that I have been unable to brush my hair, stand up or sit down, and or pick anything up from below knee height for some days now…. 15 euros for a month sounded like a good idea at the time….) But on the upside, I am getting stronger, and other people in the class have helped me figure things out, and my coach is very professional and welcoming and an inspiringly strong woman. As an added bonus, I am loving the immersion in normal Spanish life, and as a result my Spanish vocabulary in increasing in fits and spurts, as required.
Scaling Spain's highest peak. Mt Teide soars almost 4000 meters above sea level, and the "thin air" was perceptible. I thought I was looking at some interesting face paint on a woman I passed on the walking track, but when the next woman appeared to be wearing the same very unusual green spotty face paint, I realised that maybe it was me….? Magnus did not see spots, but did puff like a train sometimes. Other than that we felt fine. The views from near the top were quite sublime. …..cloud high vistas of ancient lava tongues flung against aqua blue sky and cotton wool clouds…. we were completely spell bound. Part of our view was the "Sea of clouds" near the island of La Gomera to the south, which appeared as a thick fluffy doona pulled cosily up around the island's shoulders. Apparently the hot dry air from the south acts as a sort of lid compressing the cool humid trade winds from the north into the luxurious sea of clouds that we gazed upon. Whatever the meaty meteorological explanation, it was a spectacular view.
Weekly highlights:
BEST
New cooking stuff – we conceded that to save gas, we should increase our cooking equipment to include an electric kettle (Hallelujah!!) and a benchtop grill thing. The novelty of different cooking options, as well as the practicality of these small comforts has given us a surprising amount of pleasure!!
Wearing gaudy Christmas earrings! I was a very late bloomer in the Christmas jewellery area – but once I started, I jumped right on board with all things gaudy and glittery! In fact I am a little disappointed that I forgot to pack my flashing Christmas tree earrings, but have been saved by a perfect gift from Anki and Janne – a pair of fluffy green bauble earrings to wear instead. Now the Christmas accessorising is sorted, its onto Magnus's Christmas outfit….
Santa Cruz de Tenerife's Palmetum – a botanic garden purely of palm trees, built on top of what was a pile of the city's waste. A beautiful place to visit, and an effective transformation of the unsightly rubbish pile right in town. And as an interesting aside, we have a Canary Island Palm in our garden outside Melbourne! Apparently they are the most widely planted/exported palm in the world, because they are quite adaptable to cooler climes.
Santa Ana Cathedral in the old part of Las Palmas, Gran Canaria.
Gathering together with an increasing number of our new tribe: the Viking Explorers; with whom we will prepare and cross the Atlantic alongside. The momentum is gathering as the twenty boats gradually arrive at Las Palmas for the big adventure. We have met most of the friendly, warm, and efficient organising team, and are looking forward to the first formal event this weekend.
WORST
Well you know things are not too bad when the worst thing that happened was a minor bicycle crash…. a grazed toe and bruised elbow are really the only evidence I have of this non event. Even Magnus didn't see it from his position far ahead in the distance….so apart from the telltale small abrasions, it is almost a figment of my imagination.
AND another funeral here – my 29 year old gym gloves were fatally injured during a particularly strenuous gym session. (I dug them out because the day before my hands were almost fatally injured by several pea sized blisters incurred by (attempting) what seemed like dozens of chin ups – chin did not get very close to the bar BTW… but STILL got blisters!) And …it must be said that my gloves have not exactly worked hard for the past 29 years.
FUNNIEST
Magnus and I having our pride dinted a little by realising that his Aussie accent, and my Yorkshire accent are not as good as we had led ourselves to believe. The only word to describe our pitiful attempts is "ATROCIOUS." (Foolishly we brandished our terrible accents when having dinner with an English crew…) Enough said.
Food and Bevvy highlights:
As an initiation to life in the Caribbean; the veteran Caribbean cruisers aboard Dephinus served us our first taste of Rum Punch – a Caribbean staple apparently. Delicious, refreshing and fruity, I have a feeling we may have another one of those one day! The captain even shared his secret recipe. Thanks Lee!
Sushi. This was a real treat, because our boat budget has not allowed the exorbitant treat of sushi either in Spain or Morocco. So of course we swooped upon a cheap selection we found here, just near the marina. Woop woop!
Churros – freshly made, warm fatty and sugary in La Laguna.
Having as many cups of tea and coffee as we like! New kettle uses free elctricity!
An unexpected Swedish buffet at a Scandinavian klubben right here in Las Palmas! Many Swedes retire here apparently, and there is an active expat community.
Boat work:
We have fitted a generously donated BBQ to our transom, and look forward to cooking our next fish outdoors! Thanks Björn and Alice!
FUN FACTS:
Every second person that we have met here is a Swede!! Either they have retired here, or have a boat or holiday apartment here, or are on a boat on their way to or from home. A good incentive to tränar more Svenska!
Also, I made a most useful discovery! The Captain happens to possess a working photographic memory of where every item available in any IKEA around the world is located instore. This talent has saved us many hours, as most Australians without a sever IKEA addiction will understand. (Lara who knew??)