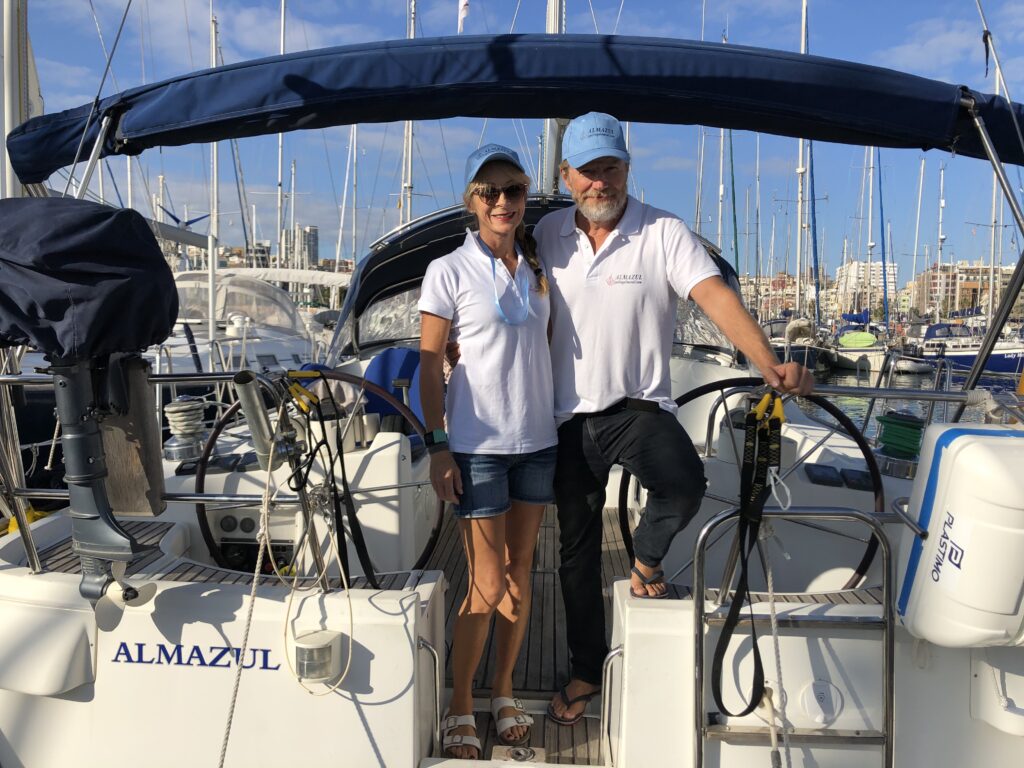 Today we farewell Europe and head west to the Caribbean. Woohoo!
Needless to say, there has been plenty going on here in Las Palmas!
Visiting friends, family, Viking Explorers rally revving up, Christmas, New Year, and the small matter of PREPARING TO CROSS AN OCEAN!! We will leave here TODAY, and the boat is as ready as it will be, after being upside down for the past week or so. The bilge is filled with food for an army, cabins stuffed with extras, and sails and rig sorted. We are heading first for Cape Verde, and then west. The anticipation has been building here on pontoon S at Las Palmas marina, and the buzz of final preparations is paplable! The local supermarket home delivery service has been very well utilised by boaters, and the boys in green uniforms trundling trolleys up and down the jetty have been running hot as they help 20 boats fill up with food for several months.
Current predictions forecast reasonably strong north easterly winds to help us move towards the equator.
Some new experiences have included:
Seeing Santas arrive en masse via paddle board… only in Spain, surely? (And BTW a VERY familiar looking Santa/Tomten with a gruff voice visited our neighbors boat at about 5pm Christmas Eve, just at the time Magnus popped out for the newspaper, or so the story goes…)
First Christmas on Almazul. Of course, it was a multifaceted celebration. We had Swedish Christmas on 24th December, Aussie/English Christmas AND the Captain's birthday, AND the arrival of Magnus's son Johan and partner Amelie on 25th, shared with new friends.
Formally meeting the Viking Explorers 2020 participants. The "Vikings" as we have labelled ourselves, are a group of 20 boats crossing the Atlantic together leaving 5th January. Together might be a strong word, because we are unlikely to see, or be in radio contact with each other after about day 1. However, we are coordinated by an experienced management team, who will alert us to inclement weather, and track our progress, and greet us in the Caribbean with rum punch in hand!
Presenting "Almazul" (including Captain and first mate) in public. As our boat name starts with A, we were the first cab off the rank… As well as having to talk about ourselves, we were privy to several informative sessions covering boat first aid, provisioning, communication/navigation, and safety. All sessions were well prepared and interesting, but for me actually practicing sutures on a pig trotter was the most memorable! After attempting to suture both the pig and a banana, the Captain and I agreed to buy a few more steri strips, and try to avoid any suturing en route altogether!
Weekly highlights:
BEST
Visitors! One of Magnus's oldest friends and partner stayed with us for a week, filling the boat with laughter, and, I hate to say… Dalsland accents….! We loved the easy and fun company Anders and Therese provided, (accents excluded, obviously!) and hanging out with them off the boat for a change. And Johan and Amelie joined us for Christmas and New Year, also bringing us much joy. They enthusiastically joined in all the goings on on the jetty and beyond. A highlight was Johan dressed as a "man overboard", and Amelie dressed as Tingeling (Tinkerbelle) for NYE, and their daily trek for fresh bread for breakfast was a very kindly bestowed luxury for us!!
Pre Christmas gathering on the jetty with the Viking contingent, Spanish Christmas with new English friends, and a NYE jetty party. I am LOVING the Swedish penchant for games at adult parties, and some clever augmentation from an English crew added to the fun!
WORST
Our bikes being stolen. We had heard that care was required, but the locks proved not enough. Since our loss, we noticed several other severed locks lying near the bike racks at the end of the pontoons…. it is annoyng in general, but also impractical. The laundry, grocery shopping, general running around all take much longer, and are more arduous. Carrying the VERY HEAVY laundry 2 kms each way is much less fun on foot, let me tell you. I have done this four times now, and will not miss this chore!
Wasting over an hour of my life on the WRONG BUS, at a time when that hour was already carefully accounted for, and no buses were included in the original plan… It was a stupid case of not sticking with my gut… instead taking the advice of a bus driver. (Although you 'd think he'd know, right!?)
FUNNIEST
The familiar looking bearded Swedish Tomten was pretty funny….. especially when he gave some poor Norwegian kids a real grilling about whether they had been good to their parents, to each other, had eaten their porridge…. yada yada yada… just get on with the presents already!! The incessant questions were delivered in a VERY gruff voice… I was surprised the kids didn't jump off their boat and run away, crying! But these kids were tough – at 4 and 6 yo they showed NO fear, and grumpy Tomten did get to the presents EVENTUALLY!!
NYE party fancy dress and games. The fancy dress theme was "Something you find in the sea" – Magnus was a fender, I was a manta ray, and Johan and Amelie stole the show as a man overboard and Tingeling. The best game of the night award must go a "forbidden word" game we played throughout the evening. We all started with a necklace each ,and if you could trick your conversation partner into saying the forbidden word, you proceeded to "de necklace" him or her. Just to keep us on our toes, the word changed several times throughout the night. The aim of the game was to collect as many necklaces as possible, and Magnus led until late in the evening, when he was blindsided by an innocent looking Swedish neighbor. (Because it appeared that Magnus had an unbeatable lead, the forbidden word was changed to my name to really try to trip him up. Mission accomplished, well done Camilla!)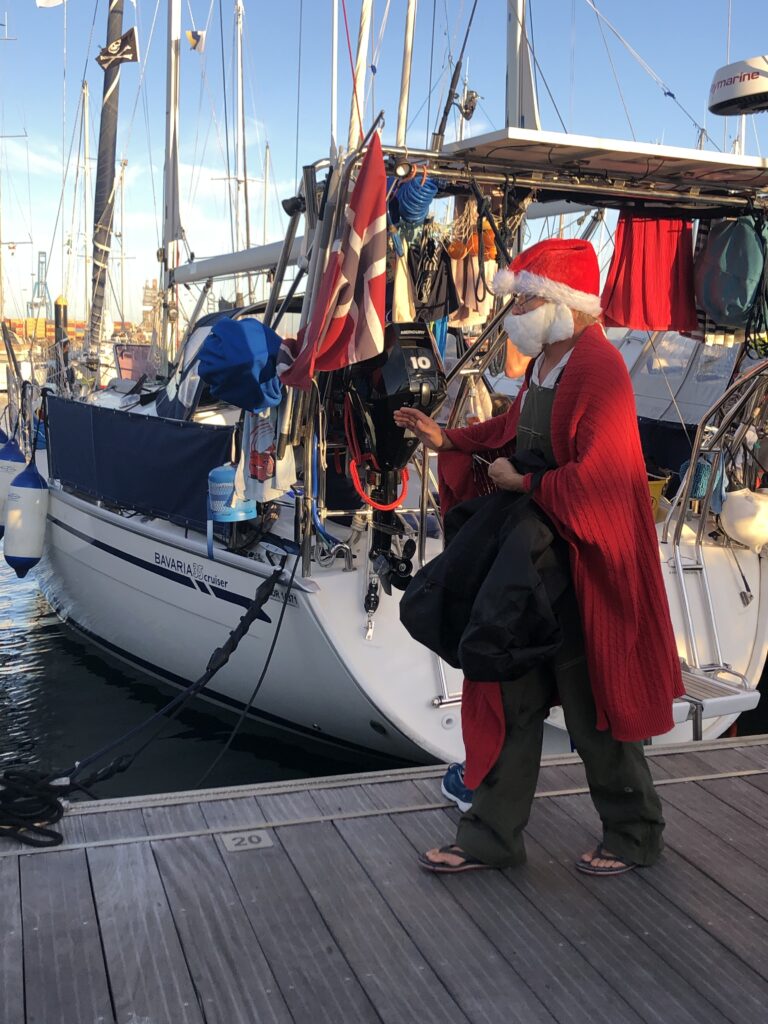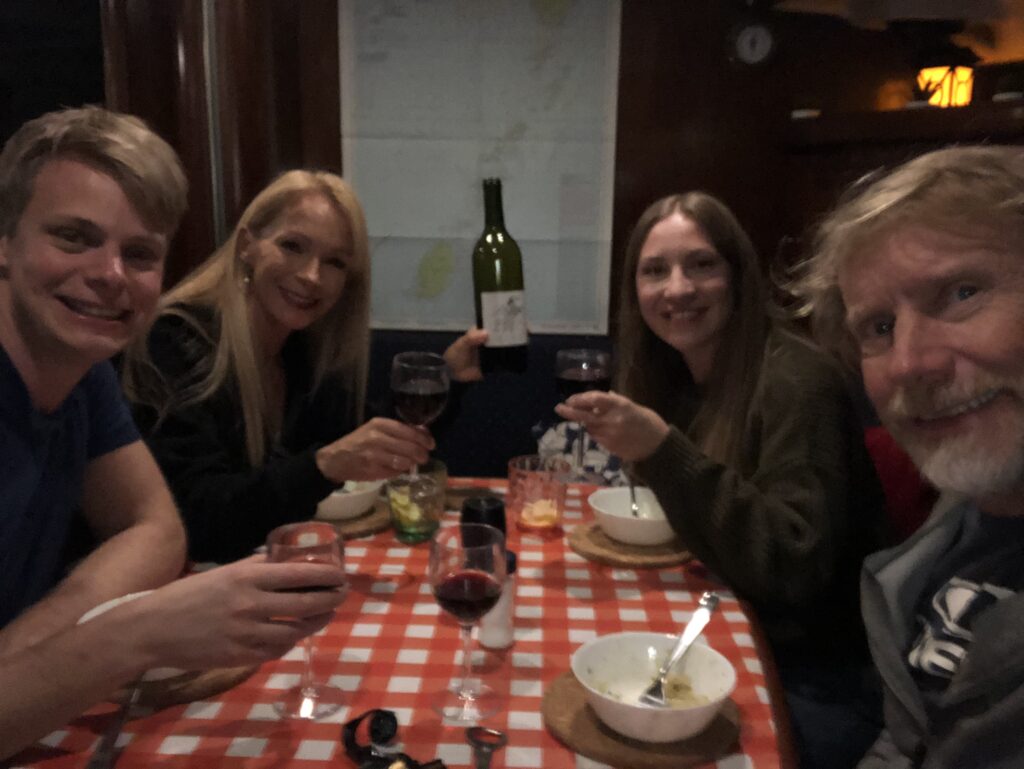 Food and bevvy highlights:
Best prawns ever – in Spain, cooked by English people!! Thanks Lee and Kirsty!
Flamin' Christmas pudding – a new one on me! Lee and Kirsty managed to heat up Christmas pud for 28 people … not a bad effort from a boat galley!
Swedish Christmas food – Magnus has quite a flair for preparing different sorts of sill, and the Janssen's Fresetelsa….etc etc
Beer and wine blind testing… if we are taking wine and beer in the bilge, we need to be sure to take the very best cheap stock available!! Luckily the beer on special at 19c came up trumps… and the tetra white wine was quite good too!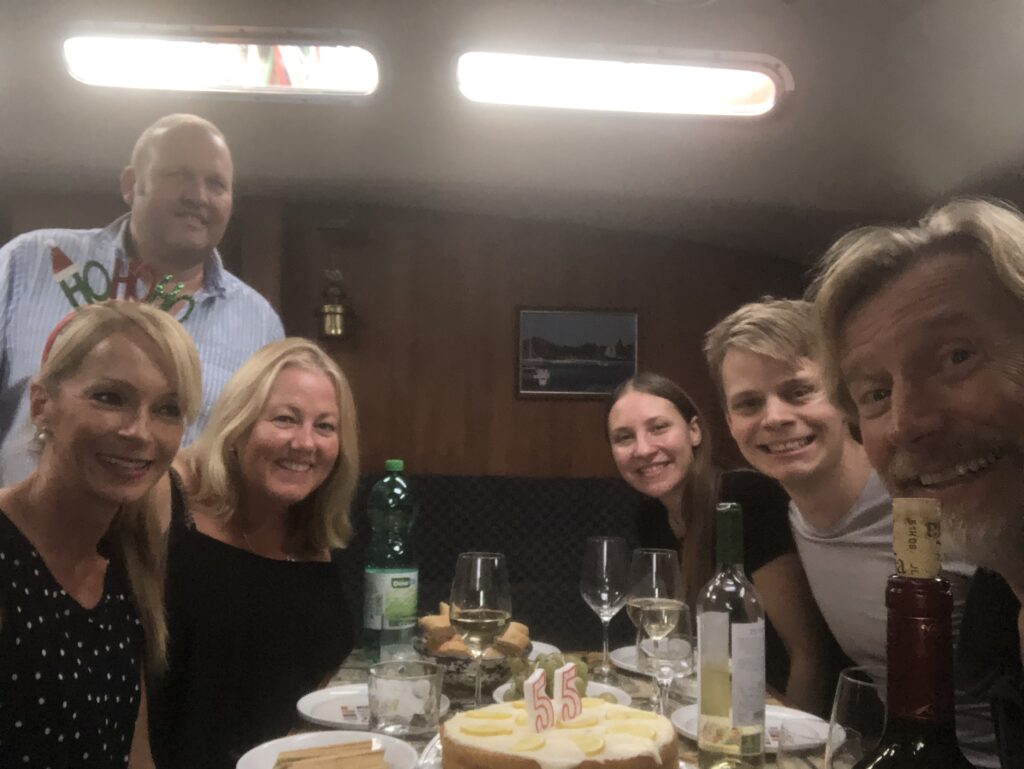 Boat work:
Whisker pole fitted
protective floor and table coverings installed
engine service
jerry cans aboard
boat stocked with food
Fun facts:
It is 860 nautical miles to Cape Verde, and then 2200 to the Caribbean.
As I packed our guest sheets and towels away, I was warmed by the thought that the next people to use them would be my daughters, express from Melbourne. xox